West Face Variation
September 2004
I did this climb with Jim Ablao, who is now the owner of Chockstone Climbing Guides. We started from the bivouac camping area at about 8:00AM.  We crossed Asterix Pass and followed the hiking trail north to the lower west side of Monkey Face.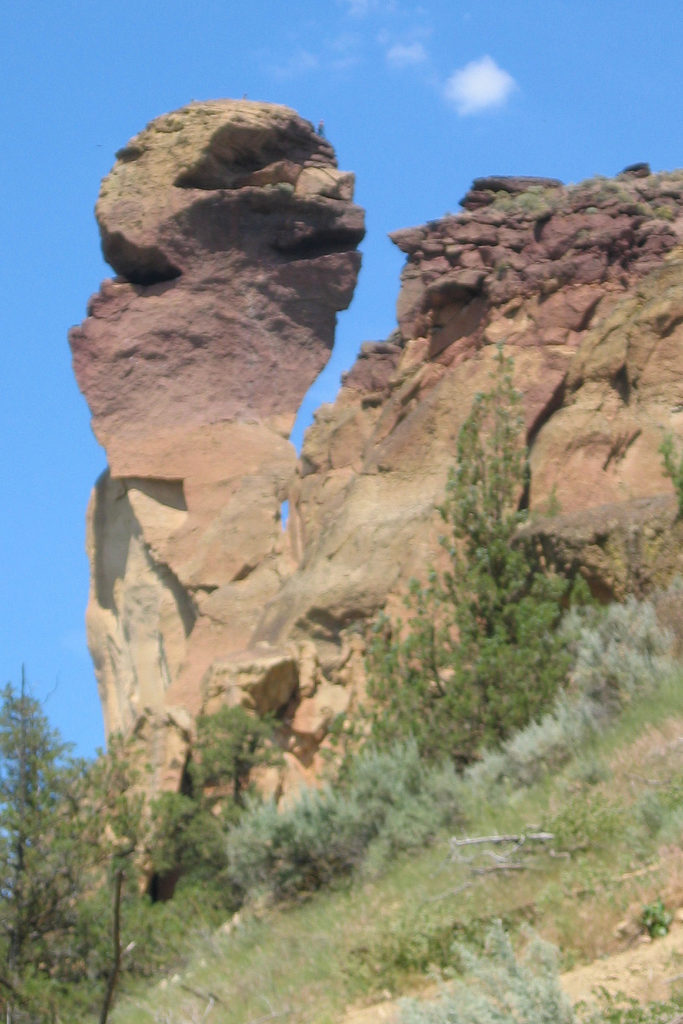 Here is a view of the Monkey Face from the hiking trail.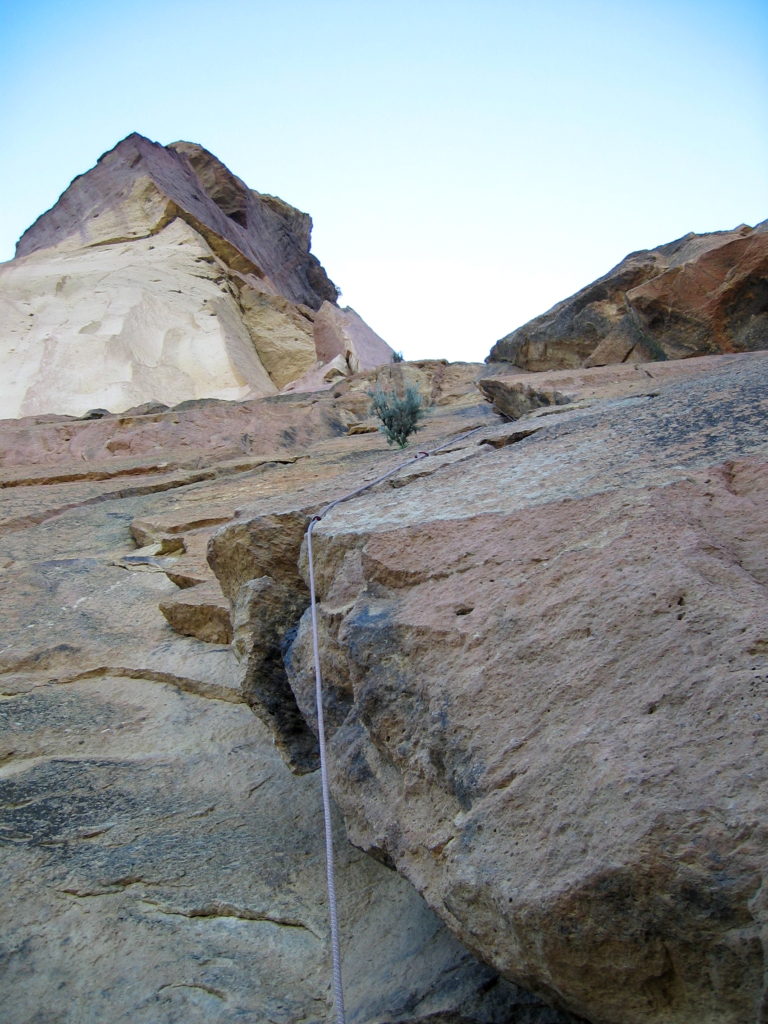 It's about 9:00AM and I'm looking up the first pitch of the west face from the hiking trail.  Jim has lead (placing gear) and I'm ready to climb.  I had no problems climbing the three pitches to Bohn Street and thought they were generally a 5.7.  But, I notice that several web pages rate this climb as a 5.8.
I was having so much fun climbing that I forgot to take more pictures.  Here are some good pictures from someone else's climb of the West Face Variation.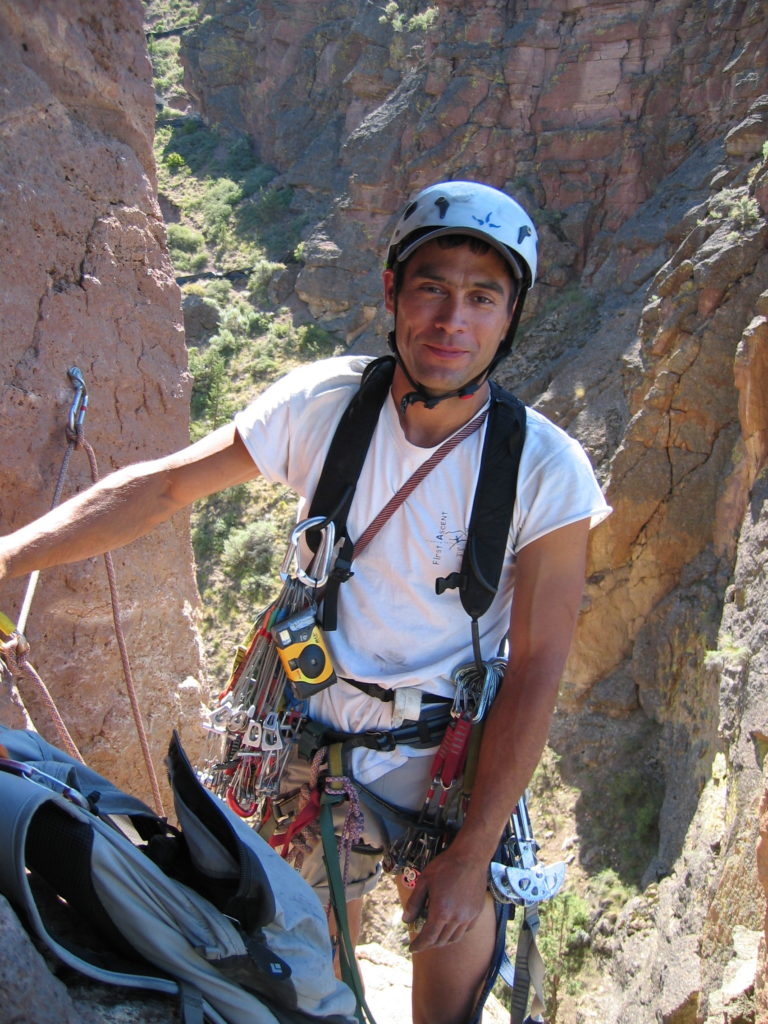 Here we are at the base of Bohn Street already.  This is my guide, Jim who is now with Chockstone Climbing Guides.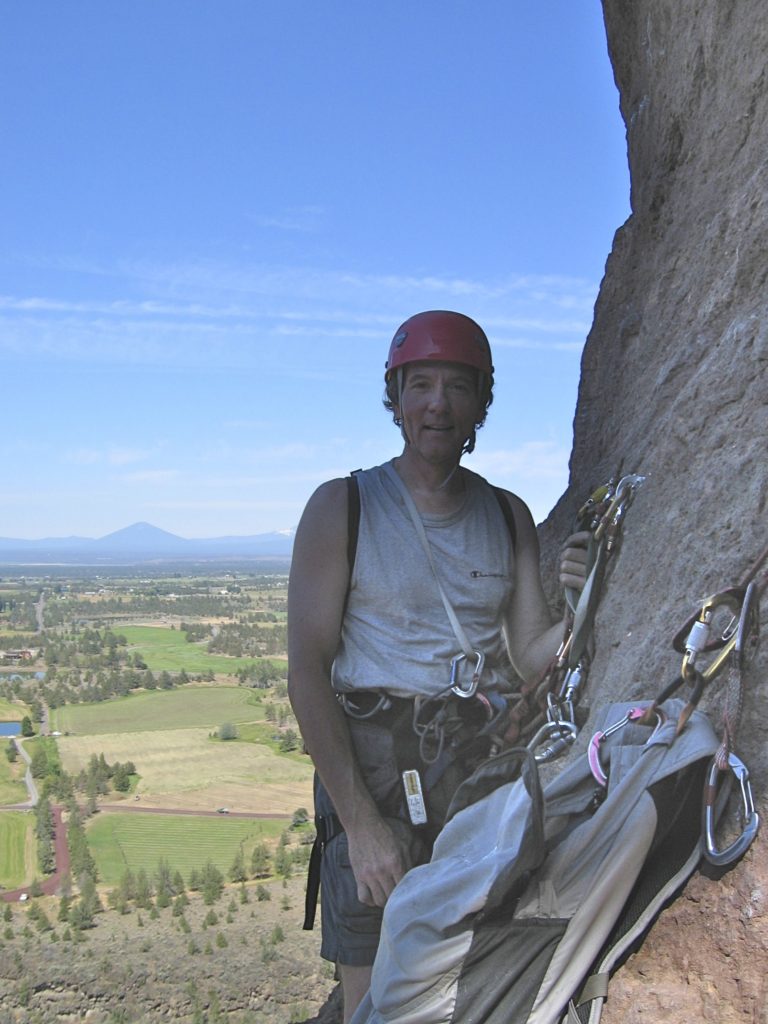 Here I am.  Climbing in the shade is good, but not for the pictures.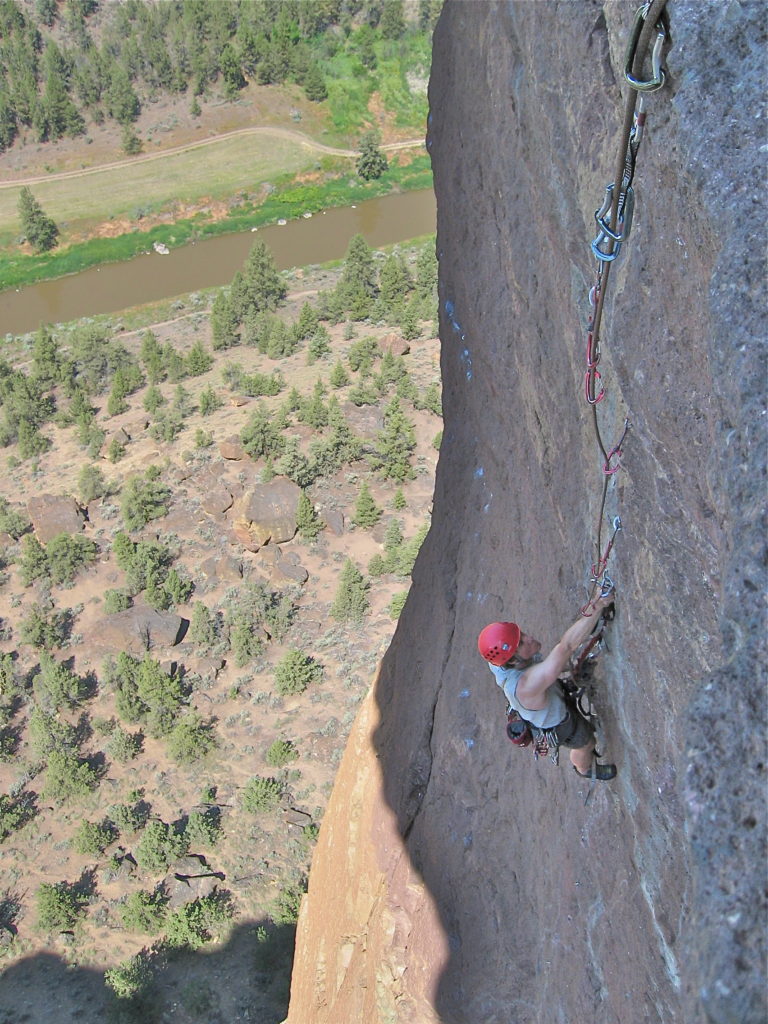 Going up Bohn Street, which is the aided climb to the monkey's mouth.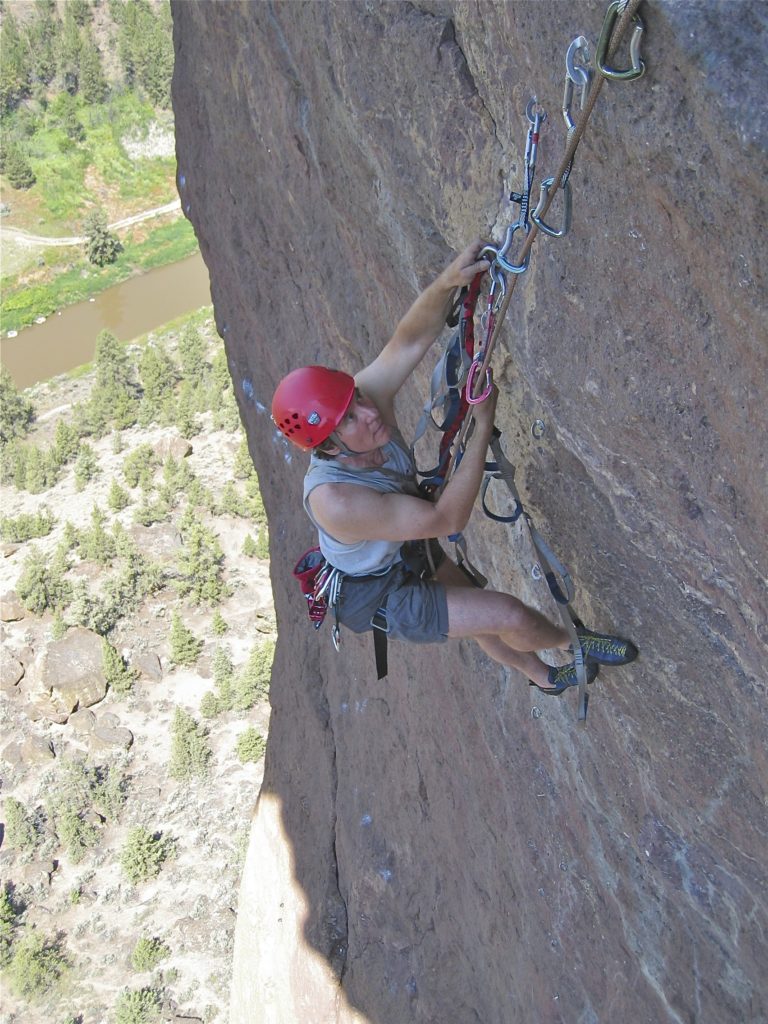 It's a lot of gear to keep straight.  I had a blast on this section and didn't worry about the exposure.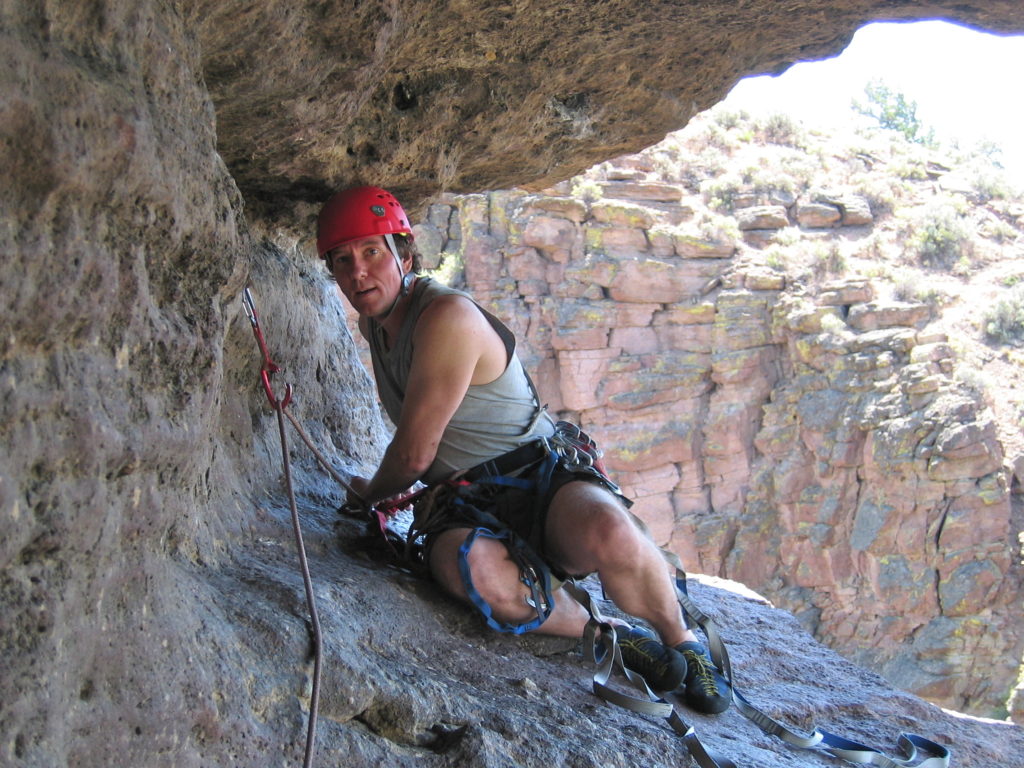 Here I am in the monkey's mouth and it's the first time that I thought about the height – I think it shows.  Behind me is the top of Smith Rock, which can be reached by hiking trail.  While I was sitting here, I heard: "loco en la cabeza" from a family of hikers.  I only had half a year of sixth grade Spanish, but I don't think they were talking about the rock!

This is a panorama out of the mouth — manually stitched together.   Next time, I'll remember to put the camera on the panorama setting (click for larger image).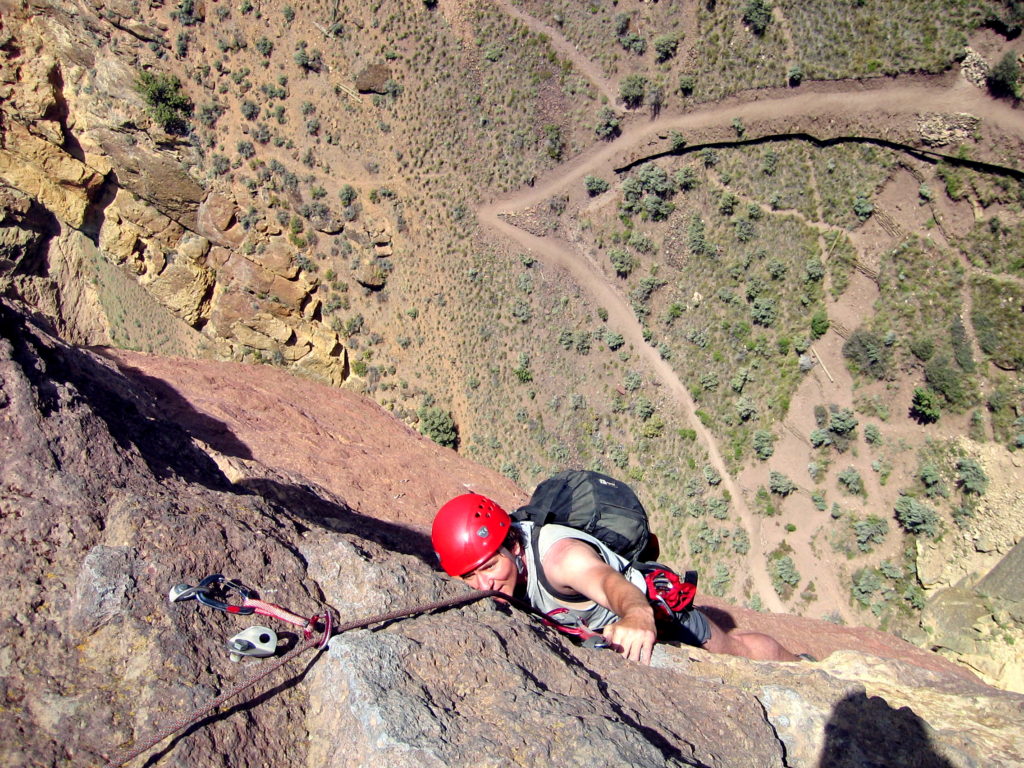 I'm climbing from the mouth up to the nose. It's a 20' long 5.7 pitch called Panic Point.  The handholds are great, but there's not much for the feet. The hiking trail is about 180 feet below me.  Here are some great pictures of this section from someone else's climb.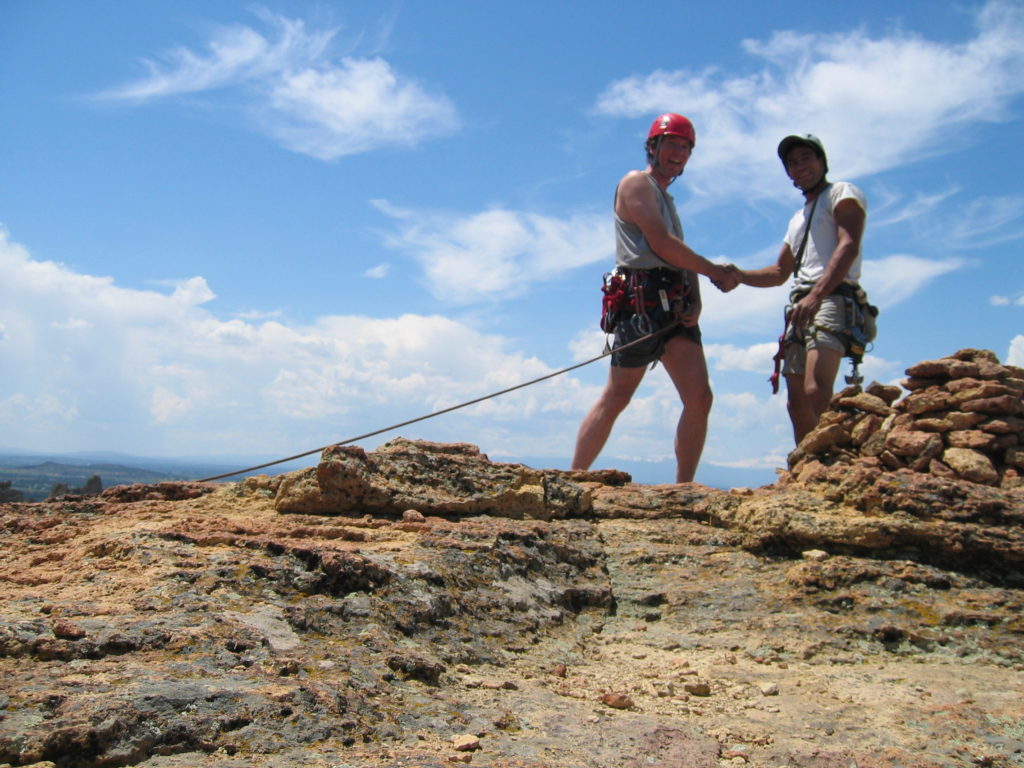 It's quick and easy to get from the nose up to the top of the head.  The picture is curtsey of the camera's self timer.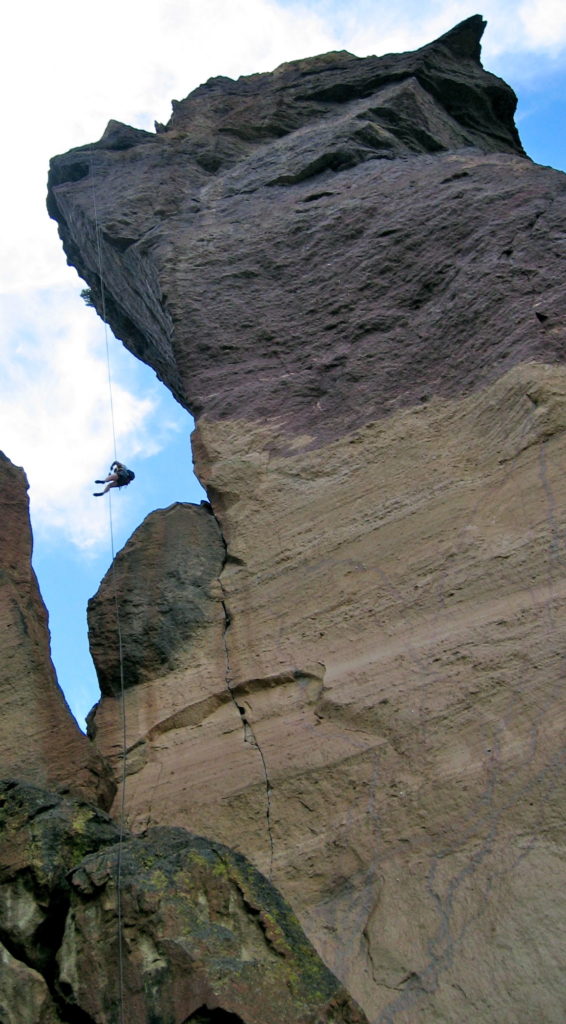 The rappel down starts from the nose using two 60m ropes.  The first part is over "Panic Point", so we needed to make sure there wasn't anybody about to climb up, out of the mouth.  Jim went down first (and took these pictures).  This is me coming down.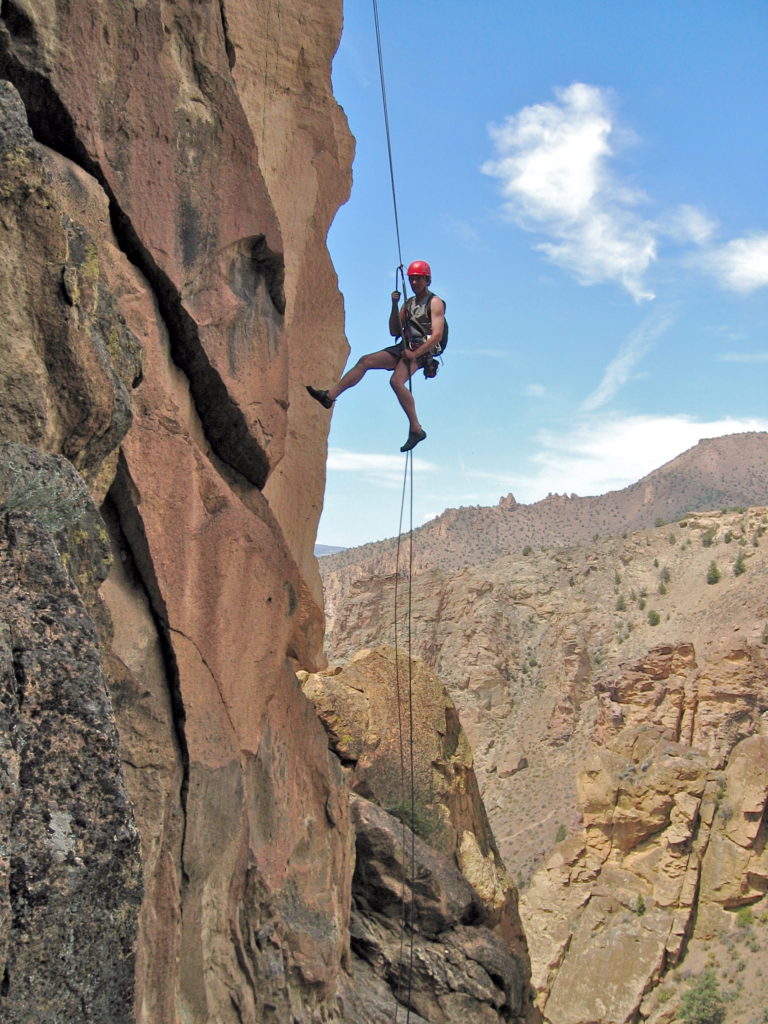 Here I am almost at the bottom.  Yes, it's as much fun as it looks! (Click for larger image)
It's about 2:00PM in the afternoon and I've got a huge smile on my face!
Updated: January 2017
Contact: GerdHoeren at Gmail dot com